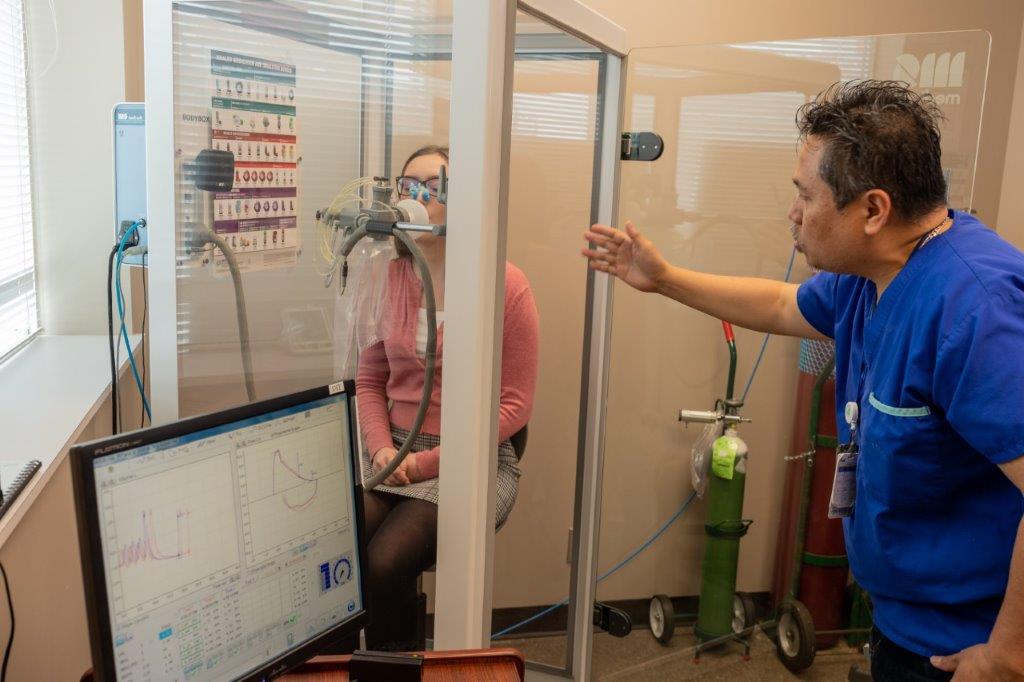 We conduct key assessments to help with diagnosis and treatment for respiratory conditions like COPD and Asthma.
Our site offers full pulmonary function testing along with 6-minute walks, MIPS/MEPS and exhaled nitric oxide testing*
*Exhaled nitic oxide testing is not covered by OHIP, please call the office to request the fees. 
Tips for testing.
Patients should bring an updated health card to their appointment.

Testing can take 45 minutes to 1 hour long depending on what tests the doctor has requested, please plan accordingly. 

If patients are using oxygen, please bring the portable devices with them to the appointment. This goes for walkers and canes as well. 

Underground parking is available on site.  Click to view daily parking rates.
Pulmonary Function Test (PFT)
Who should get a PFT?

Pulmonary function tests can be requested by doctors for diagnosing or ruling out certain respiratory conditions such as asthma, chronic obstructive pulmonary disease, allergies or lung cancer. They can also be requested to check the effectiveness of new treatment or treatment changes by measuring lung volumes, capacities, gas exchange and rates of flow.

How is the test done?

During the test, patients are given a brand-new mouthpiece and nose clip and then seated in a clear body plethysmography box. Patients are then instructed to perform different breathing maneuvers multiple times(i.e. holding their breath or blasting out the air as hard as they can). During the test, patients are given breaks during the test. The data is collected and a report is generated for the doctor to interpret to determine a patient's lung function.

How to prepare for a PFT?

Screening is done prior to booking an appointment. Tests should be contraindicated in patients who have had a recent heart attack or stroke, recent eye or abdominal surgery, or major head injury. There is no preparation needed for the day of test itself. However, patients should avoid the following prior to testing: eating a large meal, consuming coffee, tea, or items that contain high levels of caffeine, smoking and strenuous exercise.

Pulmonary function tests are non-invasive so they are mostly safe, however, some risks include dizziness, coughing and feeling shortness of breath. Special steps are taken to lower these risks. The technician monitors the patient throughout the testing and ensures there is adequate time to rest. 
6 Minute Walk Test (6MWT)
How to prepare for a 6MWT

Wear clothing and footwear that is comfortable for walking in
Bring your walking aids (cane, walker, etc.) they will be used during the test
The patient's usual medical regimen should be continued.
Avoid large meals prior to the test
Don't exercise vigorously within 2 hours of beginning the test.

How is the test done?

From resting a patient will walk for 6 minutes, with the goal of walking as far as possible. The distance covered will be recorded along with some self-perceived ratings.
Exhaled Nitric Oxide Testing
What does the test measure?

The test measures the amount of nitric oxide that is exhaled from a normal breath.

Why is this test done?

This test helps in the diagnosis and treatment of asthma. It works by detecting increased levels of nitric oxide which is associated with swelling of lung airways. It can help inform treatment plans to ensure you received the best and most appropriate care.

How is this test done?

Patients will receive a new nose clip and be asked to breathe through a mouthpiece. This test is simple and safe with no risk or preparation needed.